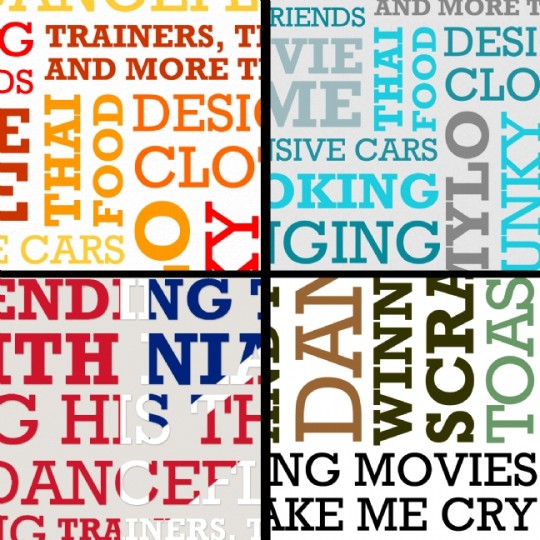 Online gift shop Find Me a Gift recently gave us the chance to sample their Personalised 'Favourite Things' Print.
The premise is simple - you select a list of the lucky recipient's favourite things, and Find Me A Gift will make up a personalised print made to order.
Available in two sizes (A4 or A3), the print comes in 9 different colour options and can be ordered framed (in a variety of frame colours) or unframed.
To personalise it you supply the person's name, which can be up to 15 characters (includes spacing and punctuation) and a  minimum of ten 'Favourite Things', each of which can be up to a maximum of 40 characters (includes spacing and punctuation).
You could list hobbies, music, films, TV, sport, food, drink, basically whatever and whoever they love etc
You're warned in advance that all text will be in capitals and that the text layout will vary, depending on the amount of things listed.
You can also opt to have your frame engraved.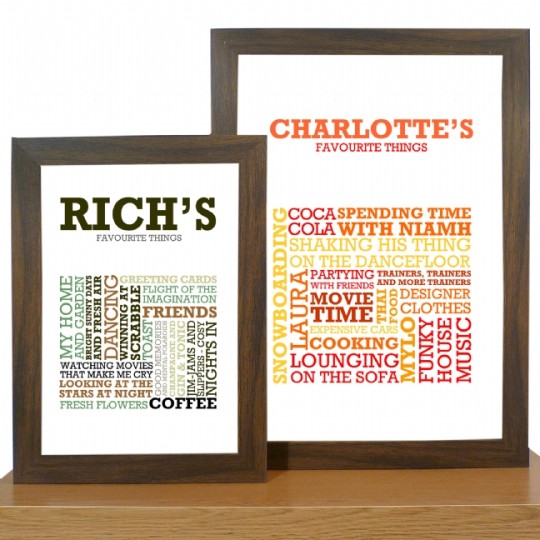 I liked the idea of this as an unusual gift, but I've got to admit that it's probably not the sort of thing I would have thought of buying beyond the context of this review.
I chose to have my print made up for my husband, and had fun deciding what to list as his favourite things. In the end I plumped for sending him a cryptic email and asking him to let me know what he'd list if asked to define his 10 favourite things.
I think that's the tricky part of buying a gift like this - you either have to be very confident that you know your intended recipient well enough to gauge their favourite things, or you have to ask them to identify them, and both options are a tad risky.
We weren't given the chance to review a proof of our print, and Find Me A Gift do specify that your print will be made up exactly according to your order, which is fair enough. If they supplied proofs I imagine they'd have to face people wanting to switch things up endlessly. But nevertheless I would have liked to have seen what the print was going to look like before it actually arrived. I might have asked for the layout to be changed slightly, but again I can understand why they might want to avoid that scenario!
At the eleventh hour I added a few additional 'things' to my husband's print and I had expected them to be grouped together - they were our children's names - but on the finished print it looks a little strange that two of the names are together while the third is not. None of that's particularly problematic but it is worth emphasising whether you're including any 'things' that you're hoping to see grouped together.
Overall this makes a cool and quirky gift. If you know someone who would appreciate an item like this then I'd definitely recommend it - from £22.99 it's pretty affordable for a completely unique and original gift.
Pros Quick and easy to arrange a cool, unique and original gift that has an impressive personal touch.
Cons You don't get any input into the layout of the print, so be prepared that it might not look exactly as you envisaged it.
Overall Verdict 8/10