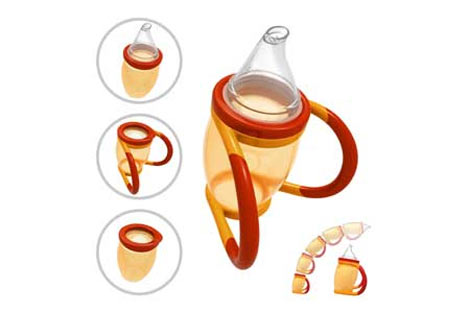 The Brother Max 4-in-1 cup is a weaning cup and you can buy it for £4.31 from Amazon.  I got one recently, so I'll do a mini review here.
You can use the cup in 4 different ways, as the title suggests!! Firstly, you can use it as a full weaning cup with teats and handles, which is the main way I tested it out. I tried it myself of course, I usually test most products before giving them to my baby.
I filled it with some blackcurrant juice and gave the  Brother Max 4-in-1 cup a try. I was surprised when nothing came out on tipping it up, until I realised the you needed to bite then suck on the teat area to make the juice flow. There must be some sort of release valve there, which also stops the cup from leaking when it's thrown about the place (which is always useful).
I gave it to baby in this form, and she wasn't very sure what to make of the cup, whether it was a juice dispensing device, or a toy! To date, she's been using a simple sippy cup, without a valve, so the juice just comes out when it is tipped up. I think the Brother Max cup was a bit confusing because of this, she didn't really realise she needed to bite the teat. I've been leaving the cup lying round while she's playing with her toys, and she's slowly realising how to use it.
The cup is dishwasher friendly which is perfect for me, and it's also microwave friendly. I won't use it in the microwave, but I was reading that it is recommended that you start to give baby their milk in a cup rather than a bottle from age 6 months onwards... I haven't done that though, baby is 11 months now and she's still taking proper bottles.
The handles are a good size and shape for baby's little hands, she can hold on to it really well.
I've used a few Brother Max baby products in the past such as the Brother Max thermometer, combi bibs and the powder dispenser, and I really love them. Every item I've used has been really useful, efficient, and perfect for me... until now. I wasn't as impressed with the weaning cup as I have been with other Brother Max products! I think if it had been the first cup that I ever gave to baby, she'd have gotten used to it, and would be able to use it well.