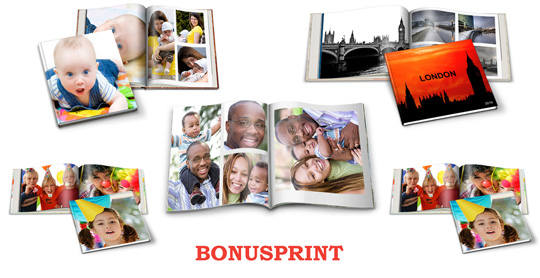 Being a photographer, on the odd occasion,  in my offline line, I LOVE to see people actually do things with their photographs.  Far too often they just sit in the 'My Pictures' folder on their computer and rarely see the light of day.
You could buy a photo album, buy some photo paper, stock up on printer ink (which is dead expensive and often costs more to replace than the printer cost to buy - what is WITH that?!) then print your photos, cut them out and stick them in.
But WHAT a faff!  It will also, most probably, cost more than creating a personalised photo book with BonusPrint and won't look anywhere near as good. I know this because BonusPrint asked me to go through their 'create a personalised photo book' process and let you know how I got on.
So the very first, and most obvious, step is to log on to the BonusPrint website - www.bonusprint.co.uk and click on the link for 'personalised photo books'.
When you're there, you'll be presented with an array of photo book formats, sizes, covers and binding options along with their respective prices - it's nicely laid out, you can easily get an idea of how each one looks and you simply click on each to get more information.
Once you've decided on your photo book size and format - I chose the 21cm x 28cm hardcover landscape photo book, which costs £24.99 - and even then there additional choices you can make.
The standard cover is linen, but you can pay a little extra and have something else; the minimum number of pages included is 24, but you can have up to 120 and you'll pay 65 pence for each additional page over 24.  You can also, if you wish, have your pages with a gloss finish - this will cost you an additional 20 pence per page.
Now you've made your book format choices, it's time to get on with adding your photos.  You have two choices
Create your personalised BonusPrint photo book online, or
Download their photo book creator software so you can do it all offline and upload later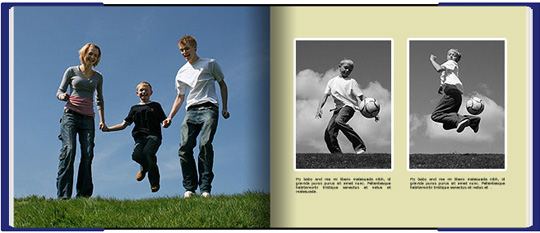 If you live out in the sticks and suffer from 'rural broadband' syndrome then you may want to download their software and create your photo book offline - uploading all your photos, especially if they're a few MB each is going to take you some time. However, if broadband speed isn't an issue for you then go ahead and create your photo book online; that's what I did.
My top tip for photo book creation is to sort out, and order, all the images you want to use ahead of time - it will save you a lot of backwards-and-forwards and BonusPrint will add your photographs to the book template in the order you upload them in.
There are various page template designs you can choose from if you need a bit of inspiration in the layout department, or you can create a page from scratch.  It's entirely up to you and even when you have chosen a pre-set page template, you can still mess around with it.
If you have to stop part way through creating your Bonus Print photo book, you can simply save your project and come back to it later on - there's no need to worry about losing your work half-way through and having to start again.
When you're happy with your photo book, simply submit it and pay and wait for between seven and fourteen days for it to arrive.
My photo book took the minimum seven days to arrive and I'm thrilled with it!
The quality of it, in its entirety, is just superb. The hardcover is strong and feels substantial, the pages are thick and made from good quality paper (200gsm in fact), the images are clear and bright.
And finally...

I just love this medium for displaying photographs and strongly recommend that everyone makes at least one in their lifetime; you can make personalised photo books for any occasion - weddings, holidays, documenting a phase in the life, or career, or career of a loved one.  OR, take photographs of your children's artwork, school certificates, literally anything you can think of.
My eldest son has recently left home and taken up his post in the Army - I've been, and am, secretly stashing photographs away of the key moments that make up his early military journey, to make into a photo book for him, for me, for the grandparents and anyone else who is likely to want one.
The images, so far, go from him sitting in the kitchen filling in his application form and include the buying of his first suit (there's a lot of suit wearing in the Army), the day he took his Oath of Allegiance through to him standing lined up with the rest of  his troop (4 Troop) on intake day and then him in his uniform.
The quality of the BonusPrint personalised photo book I received is top class and incredible value for money, especially when you consider the costs associated with trying to recreate something similar yourself.
The instructions are clear, the interface is intuitive and if you really get stuck there are additional help files.  BonusPrint also offer a 'No Quibble 100% Satisfaction Guarantee' and you can read what it does and doesn't cover, HERE.
Prices range from between £7.99 right up to £49.99 for the largest book and delivery costs £4.99.  I really can't think of any cons in using BonusPrint to create your personalised photo book, only the pros I've already spoken about.
My overall score for the book and the entire creation process is: 9 out of 10.