Yeo Valley Yeotubes Review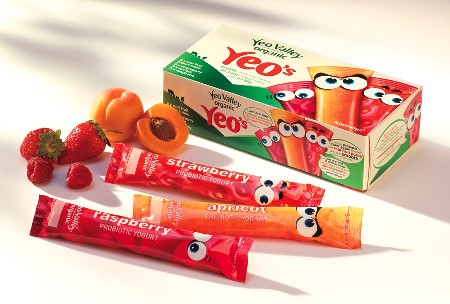 We've recently started using Yeo Valley Yeotubes* in my daughter's lunch box for school, and we love them. I once bought a big box of children's yogurts from a brand that caters for children, and neither of mine would eat it. I was so angry because I'd spent a fortune on a big box, but when I tried it I spat it out. It was not very good, so I wasn't overly anxious to spend money on another fiasco. 
Our first go at the Yeotubes, however, were a great success and both girls came back for more.
Yeotubes come in Strawberry, Apricot and Raspberry flavours. They have 80% organic whole milk yogurt, and 9% fruit puree, organic sugar, maize starch and lemon juice and natural flavourings.
I love the fact that they use whole milk rather than skimmed or low fat, and I love that they use sugar rather than sweetener. I'd rather my children had a natural sugar rather than an artificial chemical sweetener.
The pack contains 9 x 40g sachets,  which are great individual serving sizes for children although with two little ones it's an awkward unusual complication as it doesn't quite make two lunch boxes for five days, or one for two school weeks. You need to break into the next box before the next week, so they tend to get snacked on over the weekend - perhaps that's clever marketing.
Yeotubes are £1.75 at Tesco, although they're currently on a £2.50 for 2 offer.
While I do try my best to make all our food from scratch, there's much less wastage from these yogurt tubes than tubs as my girls won't eat a whole tub yet. I've also tried sending home made yogurt along but then you end up with yogurt all over the place.
If I'm going to be buying yogurt and I'm going to be buying tubes, I will keep buying Yeotubes, because they are really yum.