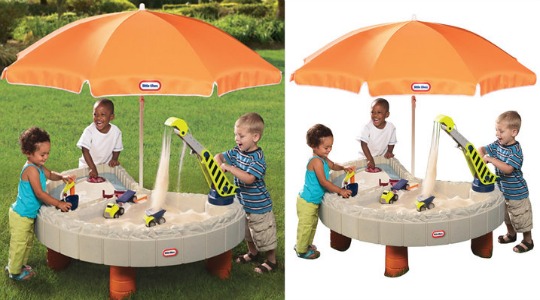 I LOVE this, I won't lie. If I had a spare £103.99 right now, it would be in my basket. What's not to like about it? The Little Tikes Builders Bay Sand and Water Table features a built in digger. This is only £103.99 at Toys R Us, whereas it would cost you £140 at Asda.com and £129.99 at Argos. Let me tell you, this is the cheapest I have ever seen this amazing deluxe sand pit.
The Little Tikes Builders Bay Sand and Water Table is not your run of the mill sand pit. No way, Jose! It features a large interactive crane system and water motion controls. Plus you get lots of play accessories too, like trucks, ocean containers, construction cones, gates and bridges.
The kids will love you forever if you bought this. It's made like every other Little Tikes toy, with chunky plastic to ensure sturdiness and durability. Plus it features a big parasol to keep your kids in the shade.
Home delivery is included in the price, so there's no extra charge there. It appears to be an online exclusive or it may have sold out completely in stores but anyway, it is unavailable for Click and Collect.