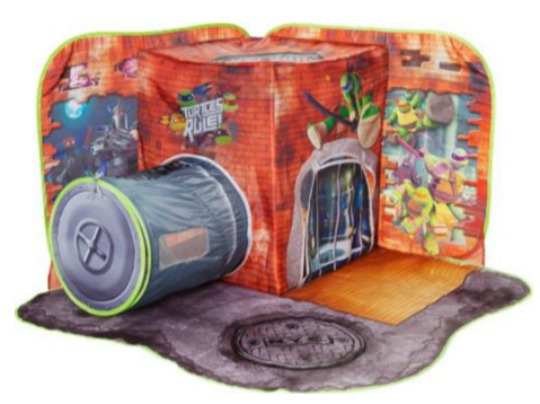 Every now and then I stumbled across a toy that I know I would have begged for as a child. The Teenage Mutant Ninja Turtles 3D Playscape from Argos was originally priced at £24.99. It was then reduced to £12.49 then to just £10.99. I don't think this was ever worth £24.99 BUT at £10.99 it's a steal.
I wouldn't worry about the fact that this is branded as Teenage Mutant Ninja Turtles as it just looks like great fun for all. I mean Teenage Mutant Ninja Turtles fans will love this but it's not just for those.
This 3D Playscape is the perfect hideout for the kids, the dog and even the cat. It does require minimal construction and it does just pop up and down when needed to. It comes with a storage bag.
It's a generous size at 82cm tall, 100cm wide, 100cm deep. It's most suited to children under the age of six for obvious reasons and for no younger than one and a half.
You can Reserve and Collect the Teenage Mutant Ninja 3D Turtles Playscape for FREE from your local Argos store or pay £3.95 to have it delivered.