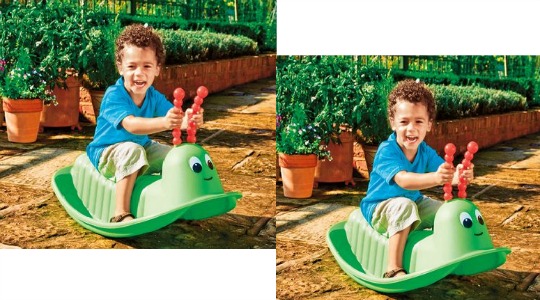 The Caterpillar Rocker from Homebase is not only cute, fun and silly, but it really cheap too. If you have a little person's birthday to buy for then look no further. It was originally priced at £9.99, then reduced to £6.99 and is now only £5.94 with the 15% off. The price will go back up come Monday. That is providing they don't sell out of course.
My kids all had a toy similar to the Caterpillar Rocker when they were younger and you could never get them off it. That's why I think that for just £5.94 it's a bargain.
Up to two children can play on it at once which is great. The Caterpillar Rocker is like a gentle see saw for little people and it's silly face and bobbled bopper handles will have them giggling away.
You can Click and Collect the Caterpillar Rocker for FREE from a Homebase near you. If you do that, then you can see what other bargains are to be found in this 15% off event. If you would rather have it delivered then the delivery charge is £3.95