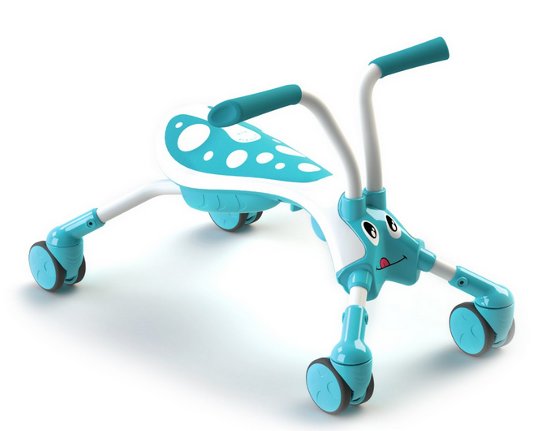 I love this new shaped Scuttlebug cousin - the Scramblebug. It's totally cheeky looking and ideal for scrambling along the, erm... tiles and wooden floors of the living room and dining room. It's reduced from £39.99 to £20, so a half price saving.
We have the Scuttlebug which my eldest daughter loves, and still rides on, and I'm loving the look of the Scramblebug for our little one.
It is a unique ride-on as it moves in all directions (360 degrees) for a more fun and stable ride for 1-3-year-olds, enabling them to develop necessary pushing and steering skills required to ride tricycles. The Scramble Bug is ideal for children to learn how to move around freely with the stability of handle bars that remain fixed.
The Scramblebug folds and unfolds in three simple steps, folding down to a compact size for portability, much like its predecessor.
The Scramblebug is omni directional for complete freedom of movement as it has incorporated castor wheels and clean, hi-tech styling inspired by insect anatomy including coated wheels for a quiet ride.
Thanks to mrbojangles59 at HUKD