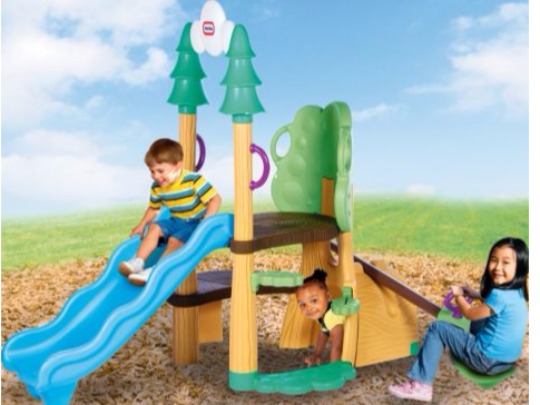 At first glance, this Little Tikes Whimsey Woodland Playcentre might seem like your typical garden slide with a big fancy plastic surround. Look closely and you will start to see the other elements of play, the climbing wall, the see saw. It's a cool playcentre that the kids will just love. It's reduced at Argos from £199.99 to just £119.99. That's a great saving of £80.
The Little Tikes Whimsey Woodland Playcentre has positive reviews on the Argos site and they suggest that it takes a wee while to build although it is strong and sturdy. That's exactly what I expect from Little Tikes, that chunky plastic construction that is built to last.
It features a leaf climbing wall with handles, a platform at the top of the slide, a log tunnel, a peek-a-boo hole and a see saw. Plenty to keep your little ones amused. This Little Tikes Playcentre is compact but can accommodate two to three kids to play on it at once.
You can Reserve and Collect the Little Tikes Whimsey Woodland Playcentre for FREE from an Argos store near you. It is currently unavailable for home delivery.