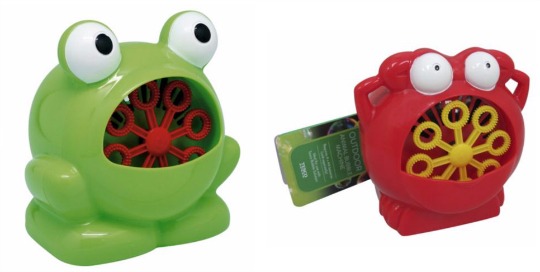 If you want an easy and cheap way to entertain the kids in the garden then bubbles are a winner every time. If they haven't got the hang of blowing themselves, and the grown ups don't want to spend all day doing it then a cheap bubble machine is a great solution.
Tesco have a Frog or Crab Bubble Machine for sale at only £5, meaning that with some cheap bubble mixture and a few batteries you can have yourselves a garden full of bubbles for the kids to chase after.
We had a bubble machine we used for my son's first birthday and we used it all last summer, keeping it topped up with big bottles of bubble mix from the poundshop. They really are a good buy for the amount of enjoyment the children get out of them.
You can get the Frog or Crab Bubble Machine delivered for £3, or you can click and collect for FREE from any Tesco, including your little local Tesco Express.
Thanks to YoYoo @ HUKD