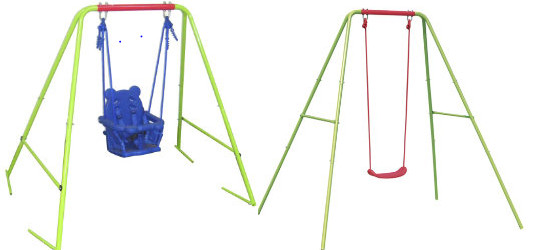 There's a 2-in-1 swing on offer at Mothercare at the moment for £30, half the original £60 price tag. There's also free delivery, so you don't even have to leave the house and lug it around town trying to squeeze it into the car.
Suitable from 9 months of age, this 2-in-1 baby and toddler swing comes with a baby seat and a single seat. The frame and swing ropes are adjustable to the child's size.
The maximum swing weight allowance is 45g and the baby height allowance is 25kg, so if you get it early on you should get a few years use out of it.
My parents had one similar to this when my oldest was small - they've moved since - and it was a brilliant thing to have, because they didn't need a whole bunch of different toys. They could normally get away with spending most of the visit around the swing. It was great.
Reading the review on this one, it may be worth fashioning something for a cover for the swing, which has a textile side and is supposed to be taken indoors in bad weather, but is apparently not very easy to do.
Colours may vary, and seem to be luck of the draw.