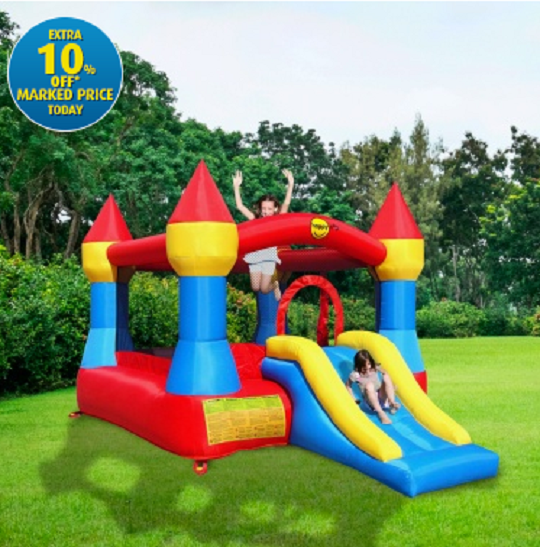 I have always wanted to own one of these. I just don't have a garden big enough and, until now, nor did I have a wallet big enough. Look, I know that £157.49 is massively expensive anyway, but it is so much cheaper than the original price of £274.99. You will see on their site the price is £174.99, but follow the info below to get it even lower…
Right, so you get the price down from £274.99 to £174.99 and then there is an extra 10% off the price as part of their weekend bonanza. It is only valid for the weekend so don't wait if you want this. Then you also get a £6 voucher from Smyths when you spend over £50 and that will then take it down even lower and delivery is free because it is over £39. It's a really good deal.
It also has excellent reviews!
 bought this for pre school children and they love it the netting around it makes it a very safe place to bounce and the fact that it has a slide is great as the kids love going up and down it. there is also a Velcro door on the castle which can be closed so as to keep the smaller ones in. I have had up to 8 kids from 3 to 10 on it at one go it gets crowed but it stayed up and they had lots of fun.
Thanks to chloe_20 at HUKD!