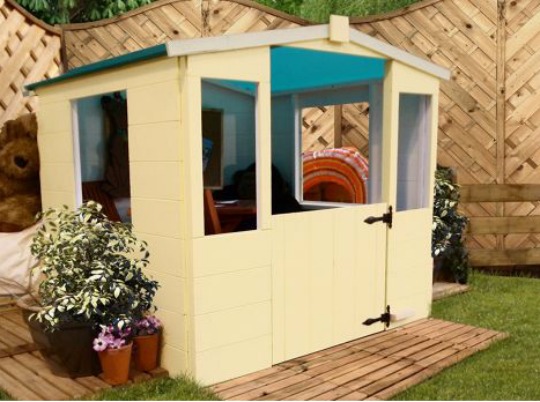 Homebase have 15% off everything until Monday 4th May, and included is this amazing large wooden playhouse. The BillyOh Fabric Roof Playhouse is listed as £99.99, but when you go to the checkout the price goes right down to £84.99! Delivery will add another £8.95, but that still makes this by far the cheapest wooden playhouse around at the moment.
This is the price you would expect to pay for a decent plastic playhouse, so to get a large wooden one for this price is a great deal.
This is a 4 foot by 4 foot playhouse, and although I was a little worried about a fabric roof it is water resistant. If you wanted one with a felt roof which will be longer lasting then that works out at £127.49 plus delivery today, which is still a brilliant deal for a playhouse this size.
The picture above is the one used by Homebase and it shows the house after it has been painted, but the building comes unpainted and flat packed.