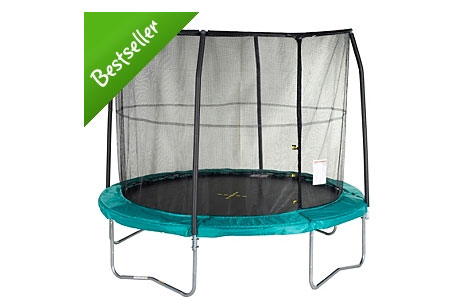 This 10ft trampoline, with enclosure, is up for grabs at Asda Direct for £99.  It's the cheapest one around that I can find at the moment - Amazon and Argos are selling the same size ones for around the £170 mark so this is a bit of a bargain.
Did you ever do trampolining as a kid at school?
Well if you didn't, here's your chance to have a go; if you did, you can relive those 'glory' days when your child is either asleep or otherwise engaged doing something because, if you have one of these in your garden, they will want to spend every waking moment BOUNCING on it.
My children ADORED their trampoline – at almost 17 and 16 bouncing around on a trampoline isn't very cool anymore - it got them out of the house and into the fresh air.
It's surprisingly physical just bouncing around so it's great exercise and above all else, it's FUN!
Everything you need to put the trampoline together is included in the box and all the steel tubes are made of galvanised steel to prevent any rust or deterioration of the frame, so it's going to last for a very long time.
It's heavy so isn't available for in-store collection; standard delivery is £9.95 unless you live in the Highlands or Nothern Island, in which case it's £14.95...sorry.
Thanks to sidney over at HUKD