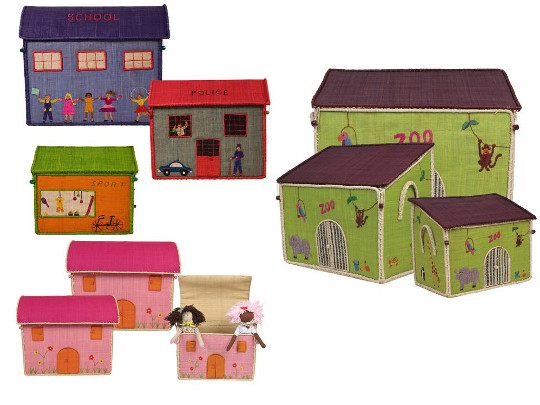 VUPBaby have an offer on sets of three house shaped toy baskets which normally sell at £135 but are now selling at £85, saving you £50.
I think these are gorgeous, although admittedly still expensive, but then toy storage normally is!  These baskets are from Rice, and they come in the Zoo, Pink and City designs.
They have functioning, fully opening doors, and of course the lids open to let in all the toys - perfect for dumping things when visitors knock on the door.
Actually I really like them. I can just imagine a large playroom with these lining the walls for different toys and bits and pieces. Aren't they lovely?
They're made from Raffia, which is an Afrcian Palm Tree leaf, and is a nice change from plastic, being all eco friendly and all.
The three baskets nest inside each other. The largest measures 50cm in length, 32cm in width and 45cm in height.