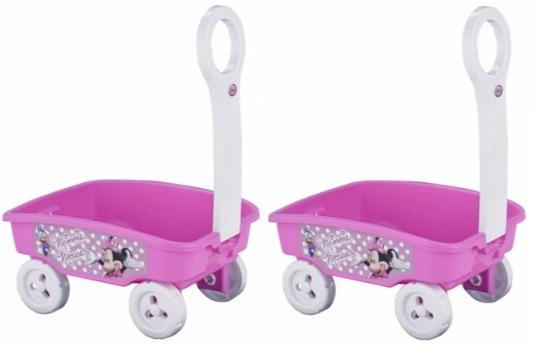 If you have followed PlayPennies for a good while, then you might have seen these Toy Wagons featured before. We haven't seen this Minnie Mouse one reduced this low for about a year, so imagine our glee when we found it for just £4.49.  Argos were selling it for £9.99, so it's now less than half price. These can prove very popular, especially at this time of year.
The Minnie Mouse Wagon is ideal for the beach. Seriously, when you have to walk a fair distance from the car to the sand, you need one of these wagons. Your little one will actually enjoy pulling their belongings and you won't have to carry a million and one things.
They are also great for in the house. My kids like to bring ALL of their toys into the living room to play and that's fine but I make them tidy them up again or else my house would resemble Steptoe's Yard. Again, they don't mind doing it if it means piling it all into the wagon and pulling it along to their rooms.
You can reserve and collect the Minnie Mouse Wagon for FREE from an Argos near you, but it looks like it's unavailable for home delivery.