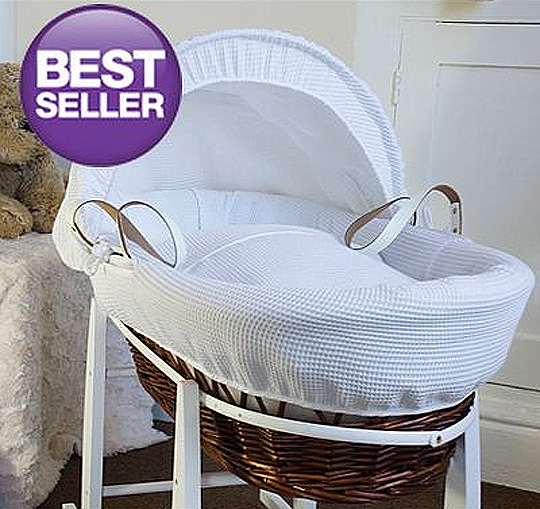 Asda are selling this wicker moses basket for £38 - if you've been scouting around for wicker moses baskets for a while, you'll know they usual cost upwards of £75.
There's something about seeing a baby sleeping in a moses basket that 'does' it for me and, as, a result all of my children spent their very first months sleeping in one.
It's not just that they look cute though, for my money moses baskets are incredibly practical: they're light, they're portable and they don't take up much room.
This particular moses basket features a padded white waffle cover over a dark wicker basket (very nice, I think) and also includes a mattress.  The mattress is waterproof and breathable, so that air can circulate around your baby, it's also washable too.
All in all, this is an absolutely fabulous deal: if I was in the wicker moses basket market, this would be in basket right now and my moses basket search would be over.  And that's saying something - I'm picky about my moses baskets and my hunts for them have been long, drawn out affairs!
You can arrange to collect your white wicker moses basket for free, from the Asda store of your choice , or you can arrange to have them deliver it to you at home for an additional £2.95.
Thanks to oozy at HUKD