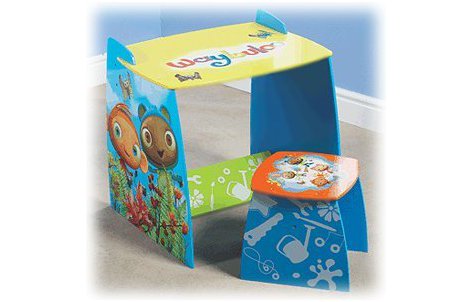 The last time I wrote about this Waybuloo desk and stool it had been reduced by Amazon from £49.99 down to £9.99; I thought it was a great deal then and I think it's a great deal now, this time up for grabs for £9.99 from Mail Order Express.
I can't find anything bad to say about this Waybuloo desk and stool and at £9.99 I can't imagine it's going to stay in stock for very long at all.
Waybuloo was a massive hit with kids right across the country when it first aired on cBeebies a few years ago; I watched the first one with my youngest and it became a firm favourite very quickly.
He gave everyone Waybuloo names and would only refer to everyone by them - my eldest was Nok Tok, my daughter was Lau Lau and he was Yo Jo Jo.
Kids love to have their own special furniture – like this Waybuloo desk and chair – and aside from anything else it's much safer for them to be sitting on a chair or stool that 'fits' them, rather than kneeling precariously at a big table because they're too small to reach otherwise.
The Waybuloo desk and stool is printed with all sorts of everything Waybuloo – if your child's bedroom is already decorated with other Waybuloo bits and pieces then it'll fit right in.  If not, then it will make a nice feature item and take pride of place I'm sure.
Delivery is free until midnight tomorrow (Thursday 21 July) if you enter this code at the checkout: FREE2011
Thanks to lucerysmum at HUKD