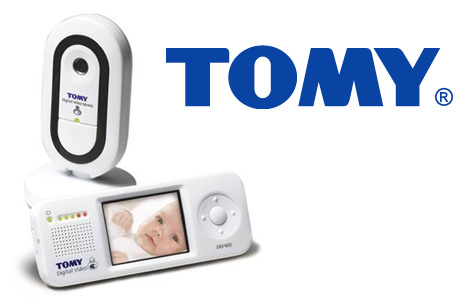 Baby Security are currently selling this Tomy Video Baby Monitor for half price, £74.99 instead of £149.99.
Some people are happy with a baby monitor that just picks up sound, others need a little more reassurance and want a baby monitor that detects motion and breathing too.
If you want eyes in the back of your head - or rather, be able to see upstairs and/or through walls - then you'll need a video baby monitor and to date they haven't been cheap; I know, because I looked into them when I was pregnant with my youngest.
This Tomy video baby monitor has a ton of features that, for some, might seem a bit over the top but if it's going to offer peace of mind to a new parent then I'm all for it.
The parent unit has a 2.4" LCD display and a belt clip so you can carry it around with you without needing to hold it.
It can also be connected to your computer so you can watch your baby on a much bigger screen.  When it's dark the infra red night vision function will kick in so you can keep an eye on your baby in the dark.
Both the parent and baby unit have LCD temperature displays so you can keep monitor the temperature in your baby's room, there's also a timer function too for keeping track of times between feeding, sleeps or when medication was given.
The Tomy video baby monitor has a 250m range and a low battery and out of range alarm, along with  pager function to help you find the parent unit in case you put it down but then don't remember where and can't find it.
There's more - I told you it had lots of features - it also has a sound light level display so you can see if your baby needs you without having the volume turned up, there's also a sound activation mode for when your baby is a little older or you feel happier not having to hear every tiny sound.
One more thing...you can record, play and save your baby's movements too should you want to and it comes with a two-year guarantee.
OK - I think that's enough for you to be getting on with; happy monitoring!
Thanks to iampav at HUKD