If you're in the market for a bottle warmer and live anywhere near a Tesco's (

and let's face it, who doesn't?) then you might want to check out the in-store offer on this Tommee Tippee version.
I don't remember these being available when my five-year-old was a baby but it seems like a genius idea to me. It used to drive me nuts that staff at coffee shops and cafes would say they weren't able to let us have a cup of boiling water to heat up a bottle or a jar of baby food. Something about the chances of us spilling it and then trying to sue them, or something but grrr it was a real pain, and made feeding the baby out of the house a bit of a logistical nightmare.
This is basically just a flask but with a bottle-sized beaker that fits on top, so you just fill the flask with boiling water, and then wherever you go you'll be able to warm a baby's bottle or heat up a jar of baby food without hassle. Brilliant, especially for Mums on the go.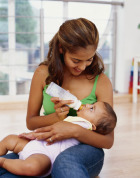 The flask has a push button open/close mechanism for easy pouring and the beaker is specifically designed to warm food or bottles in, so there's no fiddling about with disposable cups or bowls.
For some reason this is still £9.99 if you order online but only £4.99 if you buy it in-store so on this occasion it's definitely worth bypassing the internet and checking out your local branch.
With thanks to surfgirl040577 at HUKD.