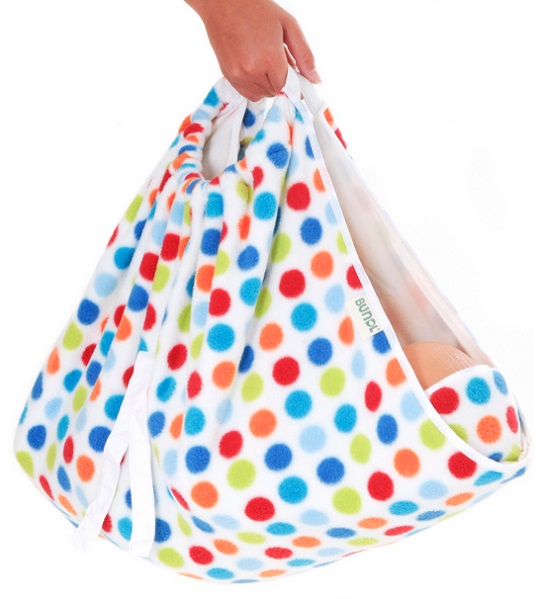 Wish I had thought of this! Actually I did, lots of times, when son was a newborn. I just didn't think to do anything about it.
The Snugglebundl is a baby blanket that is very soft, very cute, and very cuddly. It is also very odd. This is a blanket that is designed so it goes under baby, not over. How does that work? And does it work? To be honest, I couldn't puzzle it out either until we got one to try. Read on to find out more about whether this this the next must have baby item that will make your life easier, or yet another waste of money designed to trap the unwary new parent who doesn't know better yet.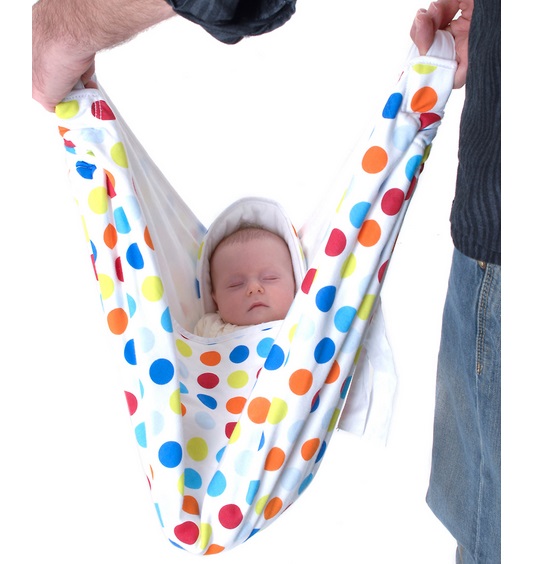 Babies like to sleep. Getting them to sleep isn't always that easy though, and once they're down you will find yourself going to extraordinary lengths to keep from waking them up. A crotchety baby is something to be avoided!
That's the idea behind the Snugglebundl (£39.99). Designed for babies aged from newborn to six months, the blanket has handles so you can lift the baby up. It also has ribbons, or ties, so you can snuggle baby in the blanket, then secure it. The ties are very broad, and short, so very baby friendly. The blanket is made from 100% cotton, and has a fleece lining.
I tested the blanket out with the help of two mums. One has a newborn, and the other a five month old baby. First off, we all liked the spotty design. Emily, mum to the newborn, thought the white was nice and bright, and all right for a little baby, however Rachel felt it wouldn't be too long before her five month old messier baby had it covered in stains.
For some reason we all rather expected it to be a bit thicker, a bit more substantial than it is. Perhaps that's down to the pricetag, which at a penny under forty quid puts this item into the gift category, or the 'I really have to need it' one.
I had a c-section with my son, and I have to say I think this would have been quite helpful in the first few weeks. That said, I didn't notice too much difficulty. According to the website, the blanket has lots of potential for use during post-birth recovery in general.
There's a little hood bit at one end, and baby does fit snuggly in there. We all thought that the support offered to baby when carried was excellent. Both my mums took the blanket away to see how it went in every day use. Rachel found she didn't use it very much for her older baby. He was a little too heavy to carry easily, and if he woke up he tended to wriggle a lot.
Emily loved the whole experience. Her biggest plus point was using it with the car seat. Especially in this colder weather she could wrap baby up a little bit warmer. Plus she was able to lift a sleeping 3 week old out of the car seat easily, and carry inside to her cot, without waking the baby up. And without having to take the car seat in and out.
Overall both mums loved the idea of the Snugglebundl. Rachel felt she'd have been able to use it more with her older baby if she'd been using it right from birth. Introducing Sam to a new thing meant he didn't take to it very well.
Emily loved it, and wishes she'd had it right from the time she left hospital. However, considering the price tag, we all agreed that it was something you could easily do without if you are on a budget. A sling or baby carrier will be just as helpful, not to mention dad off on paternity leave in those first few weeks!
Pros: comfortable for baby, easy to use, warm, really nice material and design
Cons: a little expensive for a blanket even if it does have handles
Overall verdict: 8 / 10 and definitely recommended to buy if you have the budget or are grandparents/godparents looking for something special that mum and dad may not buy for themselves.