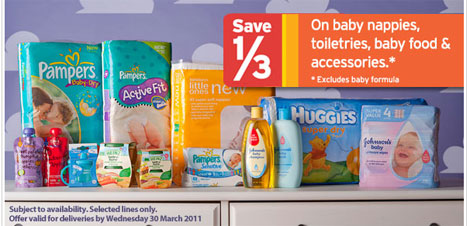 QUICK! Nip off to the Sainsbury's Baby Event, before Wednesday 30 March, and save yourself 1/3 on a ton of baby essentials; yippeee.
I do love these supermarket baby events, and the Sainsburys' Baby Event is no exception.
It probably doesn't even bare considering adding up just HOW much money we spend on nappies, wipes and other baby essentials paraphernalia; my children are 16, 15 and almost 5 now and we still get through a fair few packs of wipes between all of us.
Wipes are included in the Sainsbury's Baby Event - Huggies wipes, Johnsons wipes, Pampers wipes, Sainsbury's Eco Little Ones wipes and the normal Sainsbury's Little Ones wipes have ALL had 1/3 taken off their usual prices.
Nappies for newborns to toddlers, night time pants and swimming pants by Pampers and Huggies and Nature Babycare are all on the Sainsbury's Baby Event 1/3 off hit list too.
Then there are creams, lotions, potions and powders.
Big tubs of Sudocream (or Sod-u-cream as my daughter once called it years ago) are a must in this house too, not for nappy rash but teenage spots!  It's marvellous stuff and works miracles overnight on almost anything that needs some healing help. A 250g tub at the Sainbury's Baby Event will cost you £2.42 instead of £3.64.
But it doesn't end there.
Baby feeding - food and equipment.  Baby changing - mats, nappy sacks and all associated malarky. Baby healthcare - with a great deal on a digital thermometer and even stuff just for mum.
The Sainsbury's Baby Event started today and applies to orders being delivered by Wednesday 30 March; happy 1/3 saving!
Thanks to ElsieT at HUKD