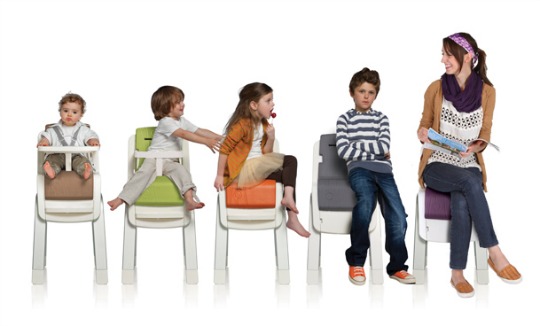 Imagine if you could invest in a highchair which, rather than cluttering up space as your child outgrows it, actually grows with the family? The Nuna Zazz highchair (£180) does exactly that. Available from Kiddicare* and John Lewis* it's part of the Nuna family, which you may recognise from when we reviewed the PIPA car seat recently.
 The Zazz highchair doesn't look like  a highchair at first glance - it's got all the style and grace of a designer dining table chair, and that's deliberate - it's designed to adapt as your child grows, becoming a toddler seat and eventually a standard seat. The Zazz tagline says it all really: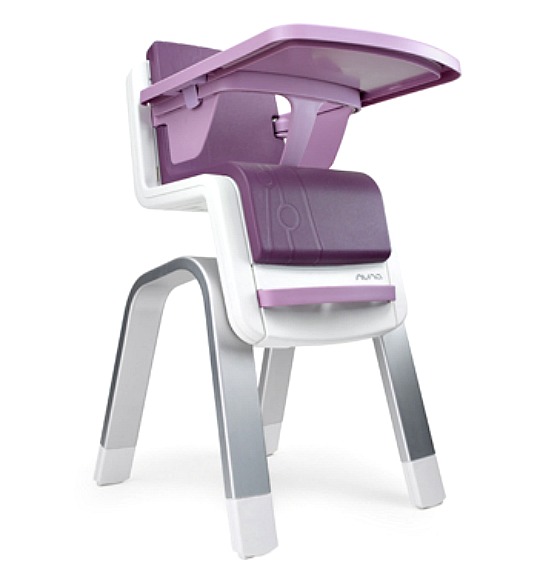 "From the mushy veggies phase right on through to plate-clearing, ZAAZ lets baby join the table in style."
It's also completely customisable - there's a hidden lift behind the footrest which adjusts the height easily so that your baby can join you at the table, instead of being stuck out on a limb as is the case with so many conventional highchairs.
The anti-loop harness is also adaptable - you can use it as a three or five point harness depending on the age of your child, adapting easily between both options, and the quick release button is handy safety feature. I particularly like the harness because you can do up both sides of it separately, one at a time - a genius idea, and clearly invented by someone who knows what it's like to wrestle a squirming, hungry tot into a highchair at meal times. It's a bit fiddly at first because it's different from standard highchair harnesses, but once you get the hang of it you can pop in even a ravenously hungry baby  quickly and effortlessly. Not having to line up all the edges of the harness before you do it up saves precious time at moments like that.
The seat isn't the most padded seat you'll find on a highchair, but the air foam cushion does look very comfy, and I actually like the fact that it's not overly squishy. After all, baby is in the chair to eat, not for a snooze, and my concern with the very padded seats is that they're difficult for babies to distinguish from bouncy cradles and so perhaps don't send the right 'mealtime' cues.
Unlike other highchairs I've used in the past, this one doesn't have a recline function but again I find that preferable, since I don't want my child to associate her highchair with sleeping or playing but exclusively with mealtimes.
The tray is very easy to remove which means you can use the Zazz for arts and crafts activities or indeed any sort of table-based activities, without any part of the chair being dangerous to inquisitive little fingers, or causing an obstruction against the table.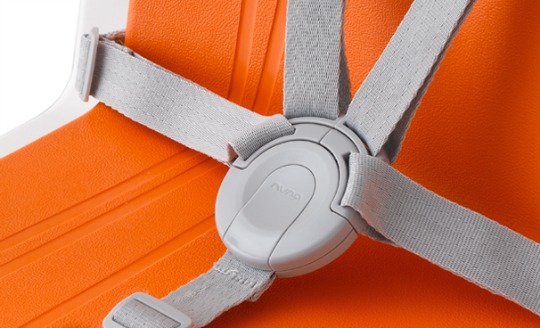 I absolutely love the fact that the entire seat cushion can be removed for easy cleaning (but you need to use a special key to do so, which you wouldn't want to lose…) and the 'no-crevice' design is just brilliant. There's nowhere for crumbs to escape to which means this highchair stands a higher chance of not ending up covered in 'baby goo' as my kids call it.
The Zazz doesn't have the 'foldaway' features of other highchairs so you can't, for example, easily cart it round to Granny's house - but then it's the sort of chair that Granny won't mind having in her house either because it's so stylish and can 'join' the other chairs around the table without looking out of place when baby's not around, so I've even contemplated buying a second Zazz to use at the grandparents' house. And because it looks so stylish and can quickly be converted for use by others, it's not the kind of chair that you'd want to fold away, as you would a more cumbersome baby chair.
The removable plastic components like the highchair tray are dishwasher safe too, making it super easy to clean up after mealtimes.
The Zazz highchair is BPA, PVC, and DEHP free, while the sleek leg base, colour options and smart look makes it feel very much like a piece of designer furniture. If you're the kind of person whose homewares are carefully co-ordination and who sees no reason for your home to resemble a nursery just because you've had a child, then this is the highchair for you.
I particularly like the fact that the colour options are bold and bright, but not bedazzled with images of teddy bears on a picnic or whatever is popular in nursery furniture these days. This is a smart, stylish chair that's a joy to use and lovely to look at.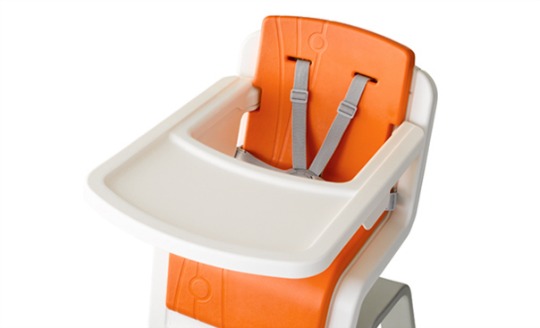 It's worth noting that the Zazz highchair is recommended for use from when its occupant can sit up unaided so it's best used within the guidelines for starting solids at six months. Having said that, my daughter can't yet sit up unaided but she's enjoyed a few short sessions of sitting in the Zazz in order to join the rest of the family at the table for mealtimes, and she seems perfectly comfortable.
The product dimensions are: 87/81 cm high x 45 cm wide x 58 cm deep, and the tray height is 74 – 67 cm.
Overall, we love this highchair, and look forward to watching it 'grow' with our baby.
Pros Practical, stylish, and excellent value for money because of the way it can be adapted for use right through until your child is grown.
Cons None that we could find. (Tiny bit worried we're likely to lose the key that you need to remove the seat cushion, so having somewhere permanent to keep that stashed on the chair would be handy, out of reach of little fingers.)
Overall verdict 9/10