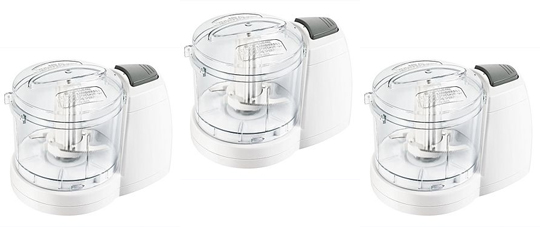 I had a mini food chopper when my teenagers were babies and it proved to be one of the most useful little kitchen gizmos I've ever owned; Asda currently have one on sale for £5 instead of £9.96.
In fact, it was so useful I think I may just buy this one - although it won't be used for baby weaning purposes.  There are plenty of times when I need to chop a small bit of something and have it very fine, it would get lost in my big beast of a blender and sometimes chopping with a knife just doesn't cut it (OHHH!  Just doesn't cut it!!  *groan*).
This mini food chopper has a 0.35 litre capacity, a locking safety lid, a stainless steel blade and a pulse function.  It doesn't promise to cook the dinner for you or show you the meaning of life, but it will make the chopping up of things, or the blending of food for babies in that weaning phase, a breeze.
The reviews are great...
"Takes the tears out of chopping onions!! Easy to use - good for chopping small quantities."
"An ideal size, excellent for those baby dinners"
"The mini chopper is a powerful and compact gadget. It's perfect for smaller items such as garlic, onions and pastes. Its compact design makes it easy to store away. Very easy to clean.I bought it in sale so got it for a very good price. A very handy, useful machine."
See, I'm not the only one who loves their mini food chopper!
Standard delivery, if you really can't get to an Asda, is £2.95, but if you can then you can collect your mini food chopper for freeee.
Happy Chopping!