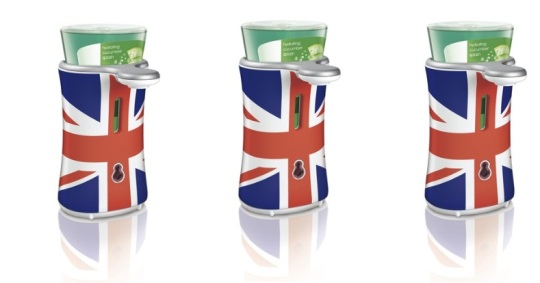 I am a huge fan of the Dettol No-Touch hand wash system for several reasons. The first is that, with kids, you can get all sorts of gunk on your hands that you really don't want on your tap so being able to get the most of it off before turning on the water is a big deal.
The second reason is that it encourages my child to wash her hands. This is an ongoing battle with her, for some reason she just doesn't like doing it and limply waves her fingers under the water if not monitored closely. The Dettol No-Touch hand wash system is fun, it's automatic, it means she needs to really wash her hands to get the soap off! In short, it helps and that makes me happy.
I recently got the Limited Edition Union Jack version of this Dettol system because it looked ace. I am not originally from the UK so I tend to look fondly on flag-branded merchandise for the home because it is, in my eyes, pretty funky. We don't celebrate the Jubilee in our home so this was more of an investment in style than celebration, and something well worth considering if you want one because it really does look fabulous.
The system works better than my old one for some reason. It seems more on the ball. And I love the fact that it comes with blue soap – how utterly charming! The only down side to these systems is, for me, the price.
At the moment, this limited edition Union Jack Dettol No-Touch is on sale at Ocado for £8, a nice saving, but the refills will cost you in the region of £3 which is quite steep. However, the advantages, for me, outweigh the disadvantages and one refill lasts about three weeks in our house.