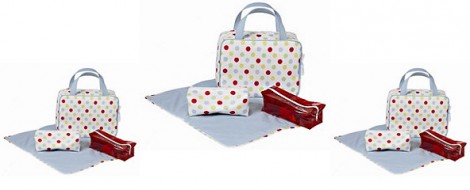 Sainsbury's are selling this rather funky looking Koo-di 4-piece changing bag for a third of the usual price, it's currently up for grabs for £12.65 instead of £18.99.
Have baby, require changing bag!
There's no getting around it, you're going to have own this vital piece of baby equipment.
It'll also end up being the bag which houses ALL associated baby paraphernalia and will be coming EVERYWHERE with you for at least the first four years of your little one's life.
This Koo-di changing bag is a nice compact version which should go some way to stopping you from taking everything, bar the kitchen sink, out with you.
It IS  large enough, however, to fit in all the essentials your little one will need - nappies, bibs and a change of clothes.
It has two removable waterproof pouch bags which are ideal for cotton wool and creams,  an elasticated strap to hold a bottle or food jar in place, as well as a large, wipe-clean changing mat.
I love it's spotty design, by the time my youngest was born I was DONE with boring  and neutral bags.
This particular Koo-di changing bag is perfect for a quick trip out, it fits underneath the pushchair (NO hanging bags over the back of the handles!) and would make a rather nifty baby's toiletry bag for holidays.
Happy changing!