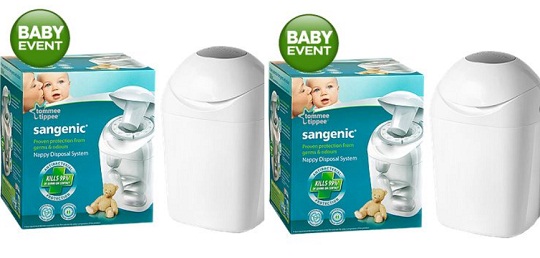 ASDA has reduced the price on the Hygiene Plus Nappy Disposal System from £10 to only £5 online. This is a tidy saving of half price on this very handy device that will help reduce the smell of whiffy nappies and store them for you while you handle baby.
You can change your baby up to 5,000 times between birth and potty training so something like the Sangenic Hygiene Plus from Tommee Tippee is a great solution for nappy disposal at an affordable price. Each spent nappy is individually wrapped in anti-bacterial film and locked away at the push of a plunger.
Actually…what? I wrote this thinking that it was a sealed bin to hold dirty nappies for a bit, not a huge environmental nightmare. Not only are disposable nappies deadly to the planet, but now they are being wrapped in even more plastic? There is no information here as to whether or not they are biodegradable either. I would love this bin as a handy storage spot for smelly nappies, but as they advertise it? No way.
Thanks to nijyp at HUKD!