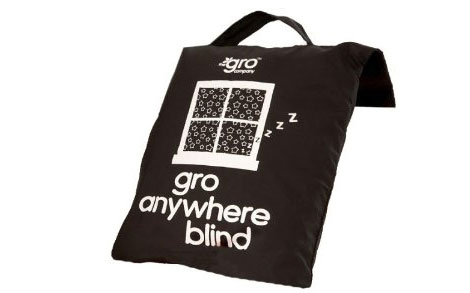 The Gro Blackout Blind is a favourite product of mine and Amazon have it on sale for £21.50 instead of £29.99.
If I was asked to put together an 'Essential items parent pack' this Gro Blackout Blind would be one of the things I'd put in it.
Daylight = time to be awake, darkness = time to go to sleep.
My brain still thinks this way and all three of my children are the same, well WERE - the teenagers have developed an amazing ability to sleep at any time of the day, broad daylight or not.
They weren't always like this though and I have many an amusing tale of taping black bin liners to windows, sewing them to the backs of curtains and all sorts, ANYTHING to create enough darkness for sleep!  The Gro Blackout Blind wasn't around when they were small in the early 90s you see.
Just take it with you when you're staying away from home overnight and stick it up at the offending window letting the light STREAM in (I mean really! Is there no consideration these days!) with its suction cups and you have instant darkness, instant night time, instant(ish) sleeping child; perfect!
The Gro Blackout blind measures an impressive 200cms x 135cms  but will fit small windows too cleverly using, as one reviewer put it, 'those elasticated waistband thingys you sometimes get on kids trousers' to shrink it to fit;  odd shaped windows will be no match for the Gro Anywhere Blackout Blind either.
Yep, it would definitely go on my list of essential things to have.
Happy sleeping in the darkness!