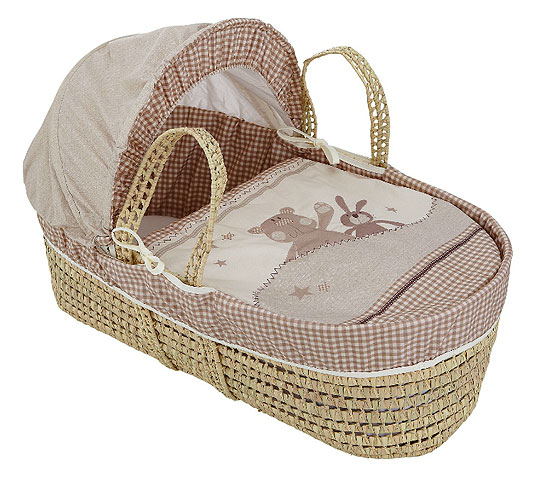 If you're after a moses basket but don't want to feel as though you've been ripped off  - moses baskets can be really expensive - then you should get yourself over to Woolworths, pronto, and take a look at this very cute Ginger and Crumb moses basket.
It's up for grabs for £18 - if you went to Littlewoods to buy it you'd be paying £49, look...
All of my children spent their first few months of life on the outside, sleeping in a moses basket; there's just something about the way they look, to me, that makes them a 'must'.
Aside from how they look, they are very practical
They're light and easy to move around the house
They're very easy to take away with you when you're staying away from home
They're small and baby can feel very cosy inside, there's also the added 'cocooned' feeling when the canopy is raised
Find the right deal and you have a very cheap first sleeping solution
Most moses baskets don't come with a mattress either, this one does which makes it an absolute steal for £18; you can also buy matching Ginger and Crumb items from Woolworths (again, considerably cheaper than Littlewoods) if you wanted to create a Ginger and Crumb nursery theme.
Thanks to UmmUmm at HUKD