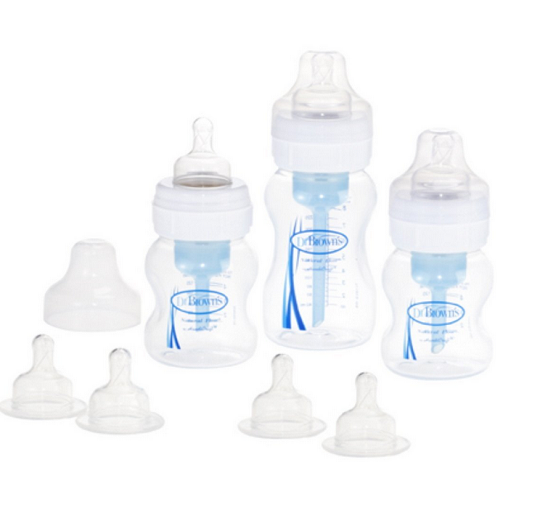 The Dr Brown's Natural Flow starter kit is down from £20.34 to £10.36 which is a saving of 49% and £9.98. You also get free delivery in the UK if you fancy joining in with Amazon Prime, which you can do on a trial basis if you fancy.
An ideal kit to start bottle feeding, the Dr. Brown's Natural Flow baby bottle was invented by a doctor and tested on his own children when they were babies, so you can be rest assured that this product is as safe as it is effective. This revolutionary baby bottle provides more comfortable feeding and helps colicky babies. This is what makes 9 out of 10 Healthcare Professionals recommend Dr Brown's Natural Flow for Colic Relief.
Dr Brown's Natural Flow baby bottles are also widely used as a preventative measure against colic - why wait for your baby to experience colic? The Dr Brown's Natural Flow baby bottles features a patented system with an internal vent designed to create a "vacuum free" environment. This patented internal vent system eliminates the vacuum and air bubbles found in most baby bottles. It allows air to enter through the teat collar, without being incorporated into the breast milk or formula. The air is then channelled through the internal vent system, to the area behind the feed. Babies are able to feed more comfortably because the vent allows babies to feed without fighting the negative effects of a vacuum or the discomfort of ingesting air bubbles. This reduces colic, burping and wind.
Thanks to Lazycouple at HUKD!