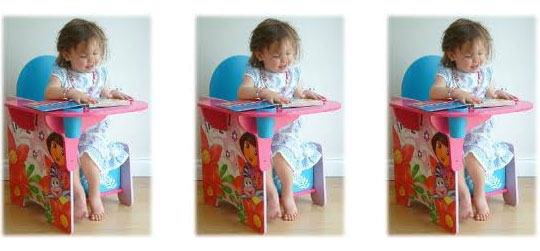 Mail Order Express are selling this rather cool Dora the Explorer school desk for £19.99, rather the its usual price of £49.99.
When I say Dora the Explorer school desk don't picture the desks we used to have at school, with the lift up lid, rather imagine the chairs with the table 'extension' on one arm that American schools have (at least the ones in the movies do!).
I think this is a rather fabulous little product - a chair and a desk all in one that will, I'm sure, get plenty of use as you don't just have to use it as a 'school desk'
Your young Dora fan will thoroughly enjoy sitting at their Dora the Explorer school desk to draw, practise their writing and read books; you could also put a little something on the table top to act as a mini table cloth and they could sit at their desk to eat snacks etc.
There's a drawer underneath the seat for storage which, I have no doubt, will be appreciated - you can never have too much storage and wasted space is heartbreaking.
You'll check out from Mail Order Express with your Amazon account and delivery will cost you and additional £2.99 - there is a 10% discount code floating around, SALE 2012, but I've tried to use it and it's coming up as invalid.
I did, however, get it to work a couple of days ago so it's either just a temporary glitch or it's expired - either way, give it a go before you pay for your Dora the Explorer school desk.
Thanks to missgem at HUKD