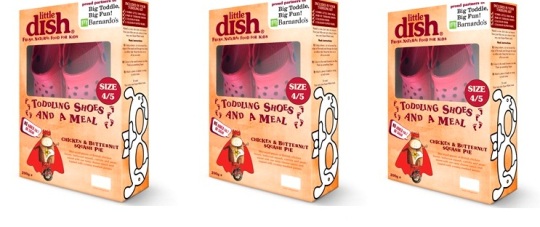 Little Dish has partnered with Barnado's in the Big Toddle to help transform the lives of vulnerable children under five across the UK. They are selling limited edition toddling shoes in special packs of their Chicken and Butternut Squash Pie for £5.
The cost of the pie is usually around £3, depending on where you shop, and so you are paying around £2, £2.50 for a pair of cool little shoes for your tot. Now, that's a darn low price and it is also for a good cause, so why not!
These limited edition toddling shoes are available in three sizes and are on sale exclusively in Sainsburysuntil 02 June. Using the link above you can find out which store near you has the offer in stock and I recommend calling ahead just in case they are sold out. They look adorable and will make a difference too, bargain.
Thanks to Guapa123 at HUKD!