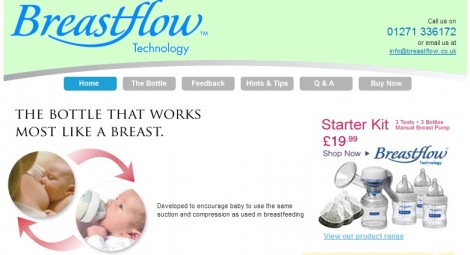 Use this Breastflow promotional code to get 20% off  any order on the site. Breastflow bottles are designed, according to the manufacturer, to work as close as possible to the way the baby would feed from the breast.
Click here to use your 20% Breastflow promotional code
Discount: 20%
Promotional code: breastflow2011
Expires: Hurby
To use the code, go to the Shopping Cart and enter it in the box under Vouchers. It will be applied automatically to your order.
I tested it out on the Breastflow Starter Kit, priced at £19.99 including delivery and VAT. This kit contains the Manual Breast Pump, for expressing directly into Breastflow bottles, three 5oz Breastflow Bottles and three Slow Flow Teats.
Interestingly the site lists items by their ex-VAT price when you get to the Shopping Cart. You also get the price without delivery added. Therefore, it took the 20% off the ex-VAT and pre-delivery charge price of £16.66. This came to £3.33. Once VAT and delivery were added back on, the overall cost was reduced to £16.
It is slightly confusing, and I've not come across a site that calculates payments and discounts this way before. So, just to clarify. On the site the prices listed include VAT and delivery, so you know exactly what you'll be paying. When you get to the Shopping Cart, this is broken down, so you see the net price for the item, the VAT and the delivery charge separately. The 20% is deducted from the net price.
Thanks to Hurby at HUKD!