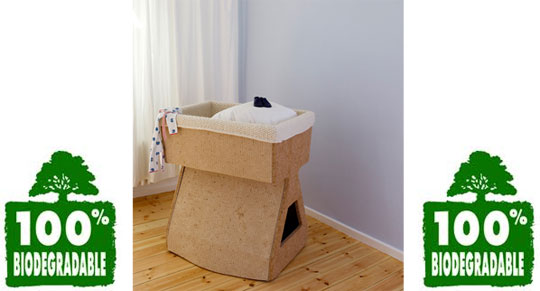 I come across some weird and wonderful things when I'm scouting around the internet looking for something different to tell you about, but this cradle from Jall & Tofta has to win a prize for making that 'extra leap'.
For environment conscious new parents, the 'Cradle' is made from a material that is completely biodegradable.
When your little one has outgrown their Cradle, and needs a bigger bed, you simply return it to the environment by putting it in the garden to decompose.
However, the designers of the 'Cradle' clearly thought that was just a little boring and decided to brighten things up a bit.
The sides of the Cradle have been cased with seed pressed panels which will burst into a bed of flowers when it's watered well!
And if those flowers are self-seeding perennials, rather than just annuals, then the bed of flowers your baby once slept in will keep coming back year after year.
What a quirky and wonderful idea.
So quirky, in fact, that I can't find a price for it anywhere!  If you stumble across a selling price for this Jall & Tofta Cradle then please do let us know.