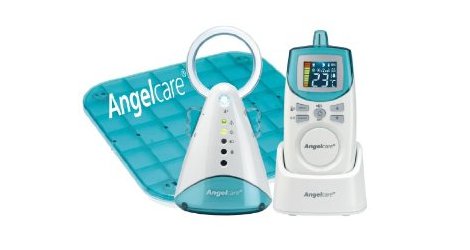 Amazon are selling this Angelcare baby monitor, with motion sensor mat, for £53.33 instead of £99.99.  Actually they're not, they're selling it for £66.66, but I have a 20% off promotion code for you, which brings the price down to £53.33.
This Angelcare baby monitor has always divided opinion here in the PlayPennies office, and I think it always will: I think it's great and I bought one when my youngest son was born - it gave me extra peace of mind, helped me to sleep better and, even though it went of a couple of times, when it shouldn't have, I wouldn't have been without it.
The others, however, are of the opinion that the motion sensor element would actually make them more paranoid, and sleep less than they already would with a new baby in the house.
The Angelcare Baby Monitor is a sound monitor so you can keep an ear on whether they are awake when you might be too far away in the house, or there's a lot of noise going on, to guarantee you'll hear them. It also has a motion sensor mat that monitors the movement from breathing and triggers the alarm should this stop.
Now, about that promotion code: it's IR5D9LXZ and is valid until 31 March.
Thanks to twinkleplease at HUKD