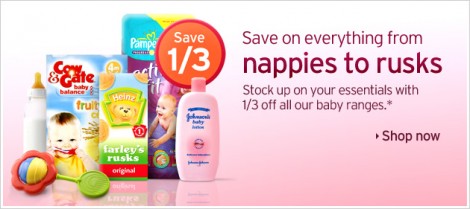 Those of you who nabbed the chance to be a part of Sainsbury's Little Ones club and get some great freebies will now all know of this fab sale that started today. All baby products at Sainsbury's are a third off until Wednesday 24th February. 
I am a firm believer in stocking up when the deals are good so you have plenty to go around when times are tough. I used to have a cupboard dedicated to wipes! This sale is the perfect opportunity for you to nab as many of those baby essentials as you can so you don't even have to think about replenishing your supplies for months. 
Included in the sale are all nappies, wipes, toiletries, accessories and food but formula is not a part of the deal.  You'll also get baby medicines, bath accessories and other such things as a part of the deal too. It's rather gratifying hunting through the baby section online as the words 33 percent off flash up on every item. 
So, happy shopping and happy stocking. Now, if there's a nuclear war, you'll be sorted for months.