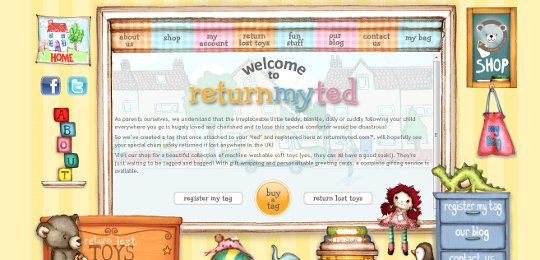 Picture the scene: You've had a lovely day out with the family. You covered more ground than you thought possible with a toddler or baby. You ate junk food and spent a fortune. It was a fantastic family day. You get home, unpack everything, whip the kids through the bath and wrestle them into their pyjamas. Your little one lies down and then sits up, looking around, and then it hits you: you haven't seen teddy since the umbrella ride.
My little girl is generally a happy child, but the day she couldn't find Pink Teddy was one of the saddest ever. She cried so much, it must have felt like a real loss to her, and it was heart breaking for me. Fortunately I was able to replace Pink Teddy and she never knew the difference! (I did wipe him around the floor a little, for effect!)
There's a new service, Return My Ted, which does exactly that. You buy a tag with a message - 'I'm lost, please return me home. It's FREE' - with a free phone number and an owner's ID number. If someone finds it, they contact the company who sends them a free post envelope. It's returned to the company who then posts it back to its owner, thereby not disclosing your home address to a random stranger.
Your tag costs you £12.95 and the service lasts for two years, or allows for one return, after which tag owners will need to renew the service at a reduced rate.
One part of me thinks loss is just part of life, and kids need to deal with it, but another?  Another part of me thinks if £12.95 was all it was going to take to get Pink Teddy back to us, it would have been worth it, especially if he wasn't easily replaceable.