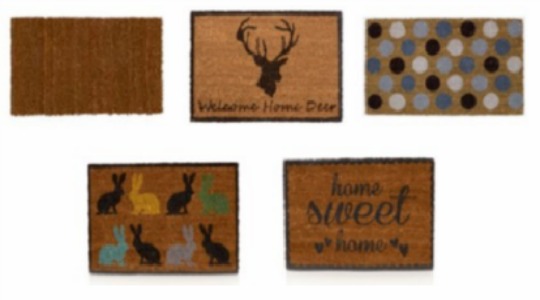 Have you bought one of these Coir Doormats from Asda? Have a look at the photo above, as Asda have an urgent recall on certain Coir Doormats that they have sold. This is due to a manufacturing error which may cause the doormats to become slippery in wet or cold weather.
What ones are affected? Any of the  'Natural Plain PVC', 'Stag Stencilled PVC', 'Spot PVC', 'Bunny PVC' and 'Home Sweet Home PVC' Doormats that were purchased from August of this year. They were £3.50 to £6 each.
What to do if you own one: If you have bought any of the Asda Coir Mats mentioned above, since the 1st August 2015, take it back to your local Asda or contact Asda.Com and request a full refund. As it's on recall you won't need a receipt or packaging. If you require any further information you can phone Asda Customer Relations on 0800 952 0101.
You can read more about this recall for the Asda Coir Mats over on the Trading Standards page, here. If you still wish to find out more then you can speak to someone directly at Asda Customer Relations on 0800 952 0101.