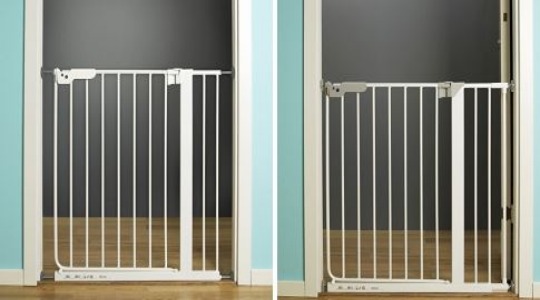 This is VERY important if you have bought a safety gate from IKEA. The PATRULL KLÄMMA or PATRULL SMIDIG Pressure Mounted Safety Gates are not to be used at the top of a staircase. They are perfectly safe when used in a doorway between rooms or at the bottom of a staircase. These are the only two IKEA safety gates that have an issue.
Here's what IKEA are saying is the problem:
IKEA has received reports where the friction between the wall and the pressure mounted safety gate has been insufficient to hold the gate in its intended position. In addition, the lower metal bar could constitute a tripping hazard. The gate poses as a fall hazard with risk of injury if mounted at the top of a staircase. There have been three reports identified where children have been injured as a result of falling downwards on stairs.

As always when a safety issue is raised with an item the retailer must launch a Safety Recall. IKEA will refund ANY PATRULL KLÄMMA SAFETY GATE, PATRULL SMIDIG SAFETY GATE and/or PATRULL SAFETY GATE EXTENSION UNIT. You do not require proof of purchase. Just return them to an IKEA store for a refund or exchange.
"This recall only affects products with a date stamp of "1510" or earlier, since all newer models will include updated user instructions and updated adhesive warning labels for the gate."
ANY of these gate no matter when made can be returned for a full refund, regardless of the date stamp.
You can find out more about the recall on these Safety Gates from IKEA, here.