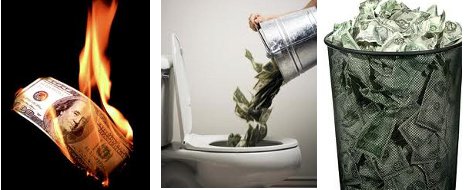 Bounty recently conducted a survey of British mothers that shows that the average new mother wastes around £200 on items that they never use.
While I don't believe this comes as a huge surprise to anyone, I must admit I felt a little bit of justification for our minimalist approach to infancy. It wasn't always easy to not buy the cute, sweet or perceived-to-be-essential goodies we saw during those nine long months of preparation, and sometimes I felt positively guilty. But we had decided not to spend the average £4k new parents spend on their first child, in an attempt to prolong the time till I had to go back to work.
According to the survey, " The majority of mums (86%) started to stock up on baby products long before they even had the child - but 43% say they totally over-bought on what they needed. The average new mother admitted to spending nearly £700 in total on baby products and 14% of women got into trouble with their partner for over-spending on things they didn't strictly need for the baby."
Something I found quite interesting in the survey was that British mums considered a cot, highchair, nursery furniture and Moses basket essentials. It doesn't say what non-British mums considered to be essentials, but considering nurseries are a predominantly Western custom, I guess non British mothers save a lot on expensive cupboards and dressers.
Tamsin wrote a feature a while ago with her list of8 Things Your Newborn Does Not Need, and it sparked a fair bit of conversation, as everyone had different ideas of what was right or wrong. And I think this list from Bounty will do the same. Which really just goes to show that every parent, every baby and every mother and child team are different.
Here's Bounty's list of 20 least useful baby buys:
Air purifier – agreed, for a healthy baby.
Video monitor – agreed. We had one. It was boring to watch.
Baby DVD – not even sure what that is.
Room humidifier – agreed.
Designer pram / pushchair – totally agree. I don't think you should even buy a pushchair till your baby is six months old!
Changing bin – we found ours useful for keeping dirty cloth nappies for the day, but not essential.
Room thermometer – agreed.
Feeding pillow – I found this useful for the first few weeks, till I was comfortable nursing.
Sound and movement monitor – agreed, at least on the movement thing.
Baby bath stand – agreed. The bath worked just  fine for us.
Top and tail bowl – ditto.
Baby shoes – although they are sooooo cute.
Bath thermometer – agreed.
Round rubber baby chair – what? Do they mean a Bumbo? Loved ours, instead of having a highchair.
Car seat cover – again, what?
Brand name nappies – I loathe one particular brand for making my newborn's bum bleed.
Bath seat – again, the bath worked fine with just a bit of water in it. She loved kicking her way up and down it too.
Baby swing – depends what you mean. We went through a few!
Baby walker – agreed.
Soft cuddly toys – agreed. They've never been played with.
While many of the items on this list might be useful or might make life a little easier, they are certainly not essentials.
I had an email on Freecycle recently from a woman saying "I'm six months pregnant and desperately need a nappy stacker." I had to giggle at the 'desperately'.  I hope she gets one of the new guides Bounty are putting together to show mums to be what the real essentials are and I hope this guide will help mums save a little if it helps them spend a little more time with their babies too.
What do you think of Bounty's list? Did any of those items make it on to your essentials list?
Image credit: No credits available.