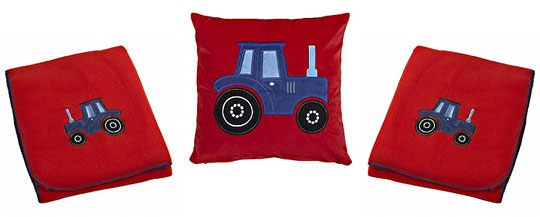 If you pop over to Sainsbury's you can pick up a Tu Tractor cushion for £5 (instead of £10) and a Tu Tractor applique fleece throw for £4 (instead of £8).
My mum is a HUGE fan of Sainsbury's and always telling me to switch my allegiance to them, from Tesco - I actually went to Sainsbury's the other day AND took and sent pictures to her to prove it, that should keep her 'quiet' for a little while...maybe.
For all my Tesco loyalty, I must confess that this Tu Tractor cushion and Tu Tractor fleece blanket are rather cute and will be loved by any youngster with a 'thing' for farm machinery.
If my youngest was still in his tractor phase then they would have been ideal for him; we used to live in a little farming village and a farmer let him sit in his tractor one day, you wouldn't believe the tears and wailing that followed having to come down from the cab so the farmer could get on with some work!
You can arrange to have your Tu Tractor cushion and/or Tu Tractor fleece throw delivered to your home for the 'bargain' price of £3.95 OR, you can arrange to collect them in-store for free.
Thanks to daisymeisha10 at HUKD