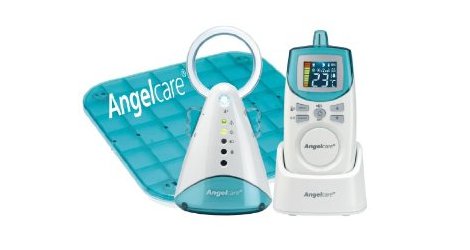 Opinion is divided on the Angelcare Baby Monitor and Sensor Mat here in the PlayPennies office - not as to whether or not it's any good, but whether or not it provides peace of mind or just makes you paranoid.
Having had three babies and used this Angelcare baby monitor with the youngest of them, I can categorically say I slept better when I had the Angelcare monitor.
If the sensor mat technology was around and on the market in 1994 and 1995 when the teenagers were born, I didn't know about it and if I woke up in the middle of the night I'd have to go into their rooms and check they were okay.  With my youngest, now almost six, I didn't feel the need to and so I found my quality of sleep was much improved.
The sensor mat detects your baby's breathing and movement, if no movement is detected for 20 seconds it will sound the alarm - this provided me with massive peace of mind.
The Angelcare baby monitor also works the same as a standard baby monitor, letting you listen in to, and keep an ear out for, your little one when you're not in the same room as them; the digital display also tells you what the ambient temperature is in their room.
All in all I think this is a fabulous baby monitor and highly recommend it if you want that extra little bit of reassurance.
You can pick one up from Amazon for £64.99 instead of £99.99 - well, as long as they leave their prices alone for a little while you'll be able to.
Thanks to  pl8urk at HUKD