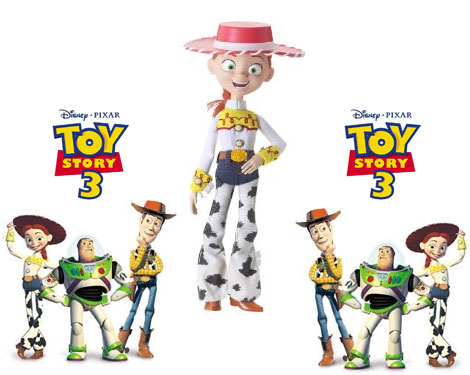 This Toy Story 3 Talking Jessie doll gives me nightmares; I'll tell you why in a minute but first I must tell you that she's up for grabs, at Amazon, for £15.97 instead of £33.99.
So, Tamsin's daughter is madly in love with Jessie; she is her favourite Toy Story character and was THE thing she wanted for Christmas last year.
Could Tamsin lay her hands on a talking Jessie?  Not a chance!
To add to the drama of the story Tam' and family were jetting off to South Africa at the beginning of December and time rapidly began to run out. We were all charged with hunting down Jessie; I stopped at every single Argos I passed and Lynley stalked the staff at Hamleys in London - Amazon were no good as their talking Jessie stock sold out within minutes.
Eventually a talking Jessie was found on Amazon and delivered to me. I was also going to South Africa over Christmas and New Year and would be able to hand over Jessie to Tamsin.
I carried her in my hand luggage and tried to banish visions of customs seizing her for drug testing and ripping her apart; in fact, I told Tamsin this is what had happened when I spoke to her after I landed - it was too good a wind-up to resist!
So that particular talking Jessie story had a happy ending, if you have a Jessie fan who wasn't quite so lucky over Christmas and still doesn't have the doll they desperately wanted then grab one now; they NEVER stay in stock for long, so don't dawdle.
Talking Jessie is 12″ tall and has a pull-ring in her back to make her talk.
She says various phrases from the film (it would be a bit random if she didn't), she has soft ragdoll arms, legs and body along with a soft plastic hat, boots and belt.
Her shirt buttons and belt buckle are made from hard plastic and she's suitable for little Toy Story fans aged three years or over, and although I think Toy Story Talking Jessie looks somewhat manic and terrifying and she gives me nightmares, I'm sure your kids will love her.
Thanks to CAZ3AS at HUKD