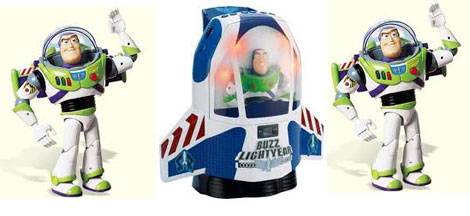 Argos have slashed the price of this Toy Story 3 CD player in half - it should be £59.99 but is now just £29.99
Themed things like this arent my cup of tea; kids are fickle creatures and whilst they might LOVE Toy Story, Ben 10, Barbie or whoever today, there's no guarantee they will LOVE them tomorrow, so it's a standard CD players all the way for me.
However, I'd hate to impose my opinion on youwhen YOU might utterly adore everything themed, so here's the low down on this Toy Story 3 CD Player.
It is shaped like Buzz Lightyear's rocket, has two 1 watt speakers in the wings and lighting effects.
The blurb also says it can be taken anywhere around the house, which means it runs on batteries only - 6 big chunky C ones, which aren't included - and there's no option to plug a mains adapter into it, so have an army of rechargeables at the ready!
The small print at the very bottom of the product page does say this: Current selling price valid until 14/12/2010 so I wouldn't muse for too long on whether to buy a Toy Story 3 CD Player or not. Snooze you lose and all that! (I've no idea why that just popped into my head).
Thanks to mandilou2001 over at HUKD