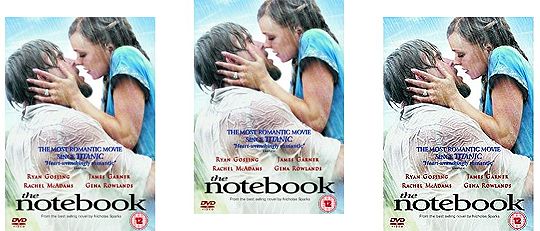 It's Mother's Day on Sunday and sometimes chocolates and flowers really are NOT the way to go! I don't want chocolates this year as I have a photo shoot in April and I need to be in TOP shape, and flowers are okay but they die - so a great movie and the delicious gift of time to watch it will be just perfect for me!
If you're quick you should be able to get this DVD of The Notebook delivered to you in time for £2.99 with the free SuperSaver delivery option - I've yet to have anything take more than three days to arrive; if you don't want to risk the wrath of the woman you're buying for then choose first class post, it'll only cost you an additional £1.49.
Right, let me tell you about this movie - as far as I'm concerned it's one of the most beautiful stories ever told.  It's romantic, it's heartbreaking and might I suggest wrapping up a box of tissues to give with it because my GOODNESS did I sob at the end!
It tells the tale of a poor boy, a rich girl, disapproving parents and World War II that parts them. Years and years later when the rich girl is engaged to a rich man and reads, in the paper, about the poor boy (now a man, obviously) and how he restored the house he always promised he would for them and rushes off to find him - I won't tell you anymore because, I can't, just thinking about the rest of the story has my eyes welling up with tears and it's a bit tricky to type through them!
Just trust me, this DVD watched in peace after a long relaxing soak in the bath having been taken out to lunch somewhere will make for a fabulous Mother's Day.
Don't forget the tissues!