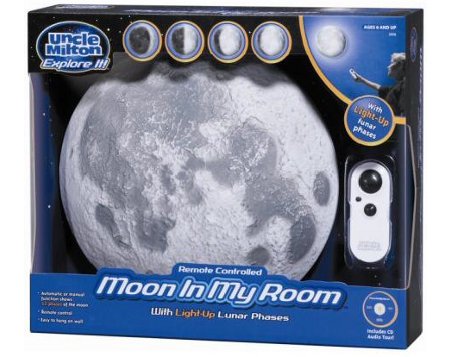 This unique home décor accessory for children – the Moon in my Room – is £16.99 at Play.com, a 43% saving.
My mother taught my little girl to look up at the moon when she was still very small, and now at 18 months there's a full on regal announcement every time we see the moon, especially during the day.   I quite like the idea of this moon as a night light though.
The Moon in my Room features twelve illuminated lunar phases that can either display automatically or be controlled with the supplied remote.
The Moon in my Room also includes an audio CD featuring a 15 minute guided tour of the moon.
The reviews, although only two, are five star, with comments such as "you won't be disappointed" and "worth painting a bedroom midnight blue to accomodate (sic) this on the wall fantastically life like".