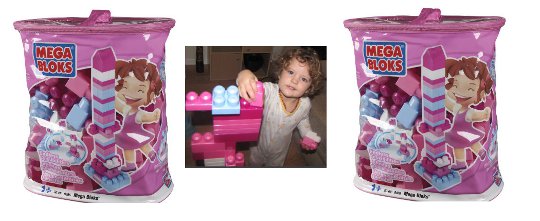 Play.com have this bag of pink Mega Bloks available for £9.99 instead of £14.99, saving you £5 and throwing in free delivery.
I say 'build a tower' because that's what my daughter tends to want to do with her Mega Bloks. She hasn't really realised that you can do more than that, just yet. She likes building towers and knocking them down over me. It's great entertainment, I tell you.
I wrote a full review of these Mega Bloks a while ago – have a read for full details.
This bag has 70 bricks, all in 'primary classic or pink' colour scheme. In other words, white, pink, blue and purple.
These bricks can apparently be mixed and matched with other 'Maxi' products and is suitable for children over 1 year of age. That said there was a 10 month old visiting recently and he treated the single 'brick' as a dummy – and there was no way he was going to swallow it!
Thanks to chritopherguy25 at HUKD