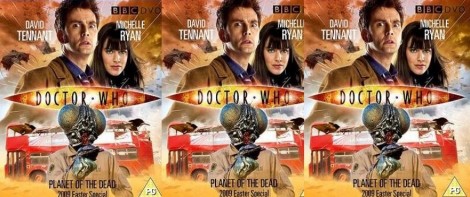 Rejoice! Those of you who are feeling the sting of no Doctor Who over the summer holidays can dance with glee at the idea of bringing this delectable alien into your home. Play, as a part of their enormous clearance sale, have marked a bunch of Doctor Who Blu-rays down to low prices.
Doctor Who: Planet of the Dead, a rather brilliant Christmas episode in my opinion, is down to £4.69. This movie, along with any others you may decide to buy, comes with free delivery and apparently will be dispatched within 24 hours. I've never had that service from Play before, but hey, you might get lucky.
You can also get the Series 5, um, series on Blu-ray with Matt Smith as the new Doctor. It includes Series 5 volume 1 for £5.29 and Volume 2 for the same low price. I must admit that it is a big issue for me how expensive Doctor Who is to buy so these prices are a welcome relief. I am SO buying myself a complete Doctor Who collection…
Thanks to Feeble at HUKD!