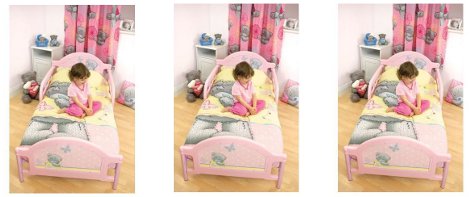 This lovely, cutesy Me To You: Butterfly Toddler Bed is currently £59.99 at Play.com, which is 40% off, and a £40 saving.
We moved our daughter into her own bed recently, and while doing so without too much ado was quite a journey of it's own, ("ooh, look at that big girl bed", "ooh, we're getting a nice new big  girl bed tomorrow", "hey, do you want to choose bedding for you nice big girl bed", "ah, what a beautiful big girl bed", and so on… ) it's gone really well, and she spends a fair part of the night in her bed, so we're really pleased.
What really surprised us, however, is how much a 'big girl bed' cost! Initially we were just going to buy a toddler bed, but that and then a few years later a single seemed like a waste to us – but then we only have one child and she has the biggest room in the house. In our old house, she'd have had to go in a toddler bed to fit it in the house.
So, this pretty, sturdy licensed toddler bed is cot bed size, and is apparently easy to assemble. It comes without the mattress, so you have to buy that separately and you can find matching linen, but again, it comes separately.
Dispatched in 24hrs – which is better than the 28 days we had to wait – these are in stock, and should make a little girl very excited for at least her first bed time.
Thanks to wishihadadonkey at HUKD