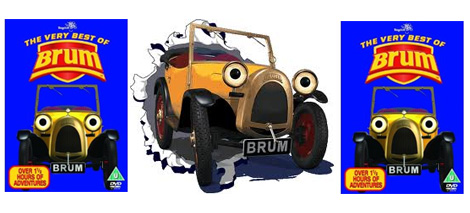 Amazon have a lovely deal on 'Brum - The Very Best of Brum' DVD at the moment. He should be £12.99 but they're letting him go for just £2.99!
If you've never seen Brum, despite the fact it first aired almost 20 years ago back in 1991, then I suggest you buy a copy of this DVD and address the matter right away; it is an absolute genius piece of children's television which works on SO many levels!
So, Brum is a little car – a little intelligent car (for the car buffs out there, I can tell you that Brum is a half-scale replica of a late-1920s Austin 7 "Chummy" convertible)  and a super-hero one at that, defending 'Big Town' and its people from bad guys!
The only dialogue comes from the narrator, the action and acting is very pantomime-esque which appeals to all ages – the very young can just watch for the action, and those slightly older can appreciate the humour and 'contains mild peril' elements.
My big kids loved Brum when they were small in the mid 1990s and he's just as loved by my youngest a decade and a bit on. You really won't go wrong with this little yellow car especially not for £2.99 with free UK delivery.